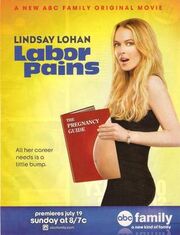 Labor Pains is a 2009 romantic comedy film starring Lindsay Lohan and Bridgit Mendler.
Thea Clayhill is about to lose her position as secretary to a very cranky publisher. So she lies about being pregnant to save her job, as she saw on an episode of Law & Order that it is discriminatory to fire a pregnant woman. The plan works, and she gets to keep her job.
With help from her friend, Lisa - and a "baby bump" stolen from a mannequin — Thea fakes her pregnancy while figuring out her next move. In the meantime, her boss gets called out of town and his cute brother Nick takes over. In an attempt to get an author Suzie Cavandish to publish a book with the company, he takes Thea to a meeting with the author. Thea convinces the author that they are the right "home" for her book. Nick then launches a new parenting division at the publishing company, and he wants Thea to be the editor. This results in a raise and promotion for Thea, as well as the beginning of a romantic relationship between her and Nick after breaking off her fake engagement with Miles. She begins to enjoy her life to the extent that her "pregnancy" becomes real to her. In an attempt to get Thea to admit her lie to her family, her little sister, Emma throws Thea a surprise baby shower. When Thea still doesn't admit the lie, Emma destroys her pregnancy pillow in a fit of rage. Quickly, Thea grabs a balloon and leaves. Later that day, the author of the book is going to have a book reading, but her boss comes back a week early, and gets into an argument with Nick (which ends with Nick jumping on him, then Thea pulling them apart). After insulting Thea, she tries to go at him. Nick holds her back by the stomach, and her balloon pops, blowing her cover. After a couple of nights, Nick still does not answer the hundreds of calls Thea left him. She gets to go on the show talking about the book Suzie wrote. After everyone leaves, Thea and Nick kiss until the lights go out.
Two years later, Thea, pregnant for real (with her and Nick's child), goes into labor. Nick and Lisa are left pushing Thea to the hospital in a desk chair.
Lindsay Lohan - Thea Clayhill
Bridgit Mendler - Emma Clayhill
Cheryl Hines - Lisa DePardo
Tracee Ellis Ross - Kristin
Chris Parnell - Jerry Steinwald
Luke Kirby - Nick Steinwald
Kevin Covais - Greg
Willie Garson - Carl
Bonnie Somerville - Suzie Cavandish
Jessica St. Clair - Pregnancy Class Instructor
Ana Ortiz - Donna
Aaron Yoo - Miles
Janeane Garofalo - The Vista Host
Creed Bratton - John Abbotts
Pat Crawford Brown - Aunt Betty